About the TSC Model
KU Technology Support Centers (TSC) offer a diverse range of technology support for faculty and staff to help them teach, learn, work and adapt in the changing environment of information technology. We strive to exceed expectations and provide for the future growth of KU.
The Technology Support Center (TSC) model was created to provide better service to our customers, leverage the knowledge and skills of support teams, provide professional growth opportunities for support staff and contribute cost savings toward Bold Aspirations priorities.
The Technology Support Center model is a hybrid between centralized and decentralized support models. This hybrid model is based on:
Centrally managed support teams that are located in close proximity to the customers they serve
A tiered structure that gives frontline support staff the ability to escalate particularly difficult service issues
Shared decision-making between unit leader and KU IT to meet customer needs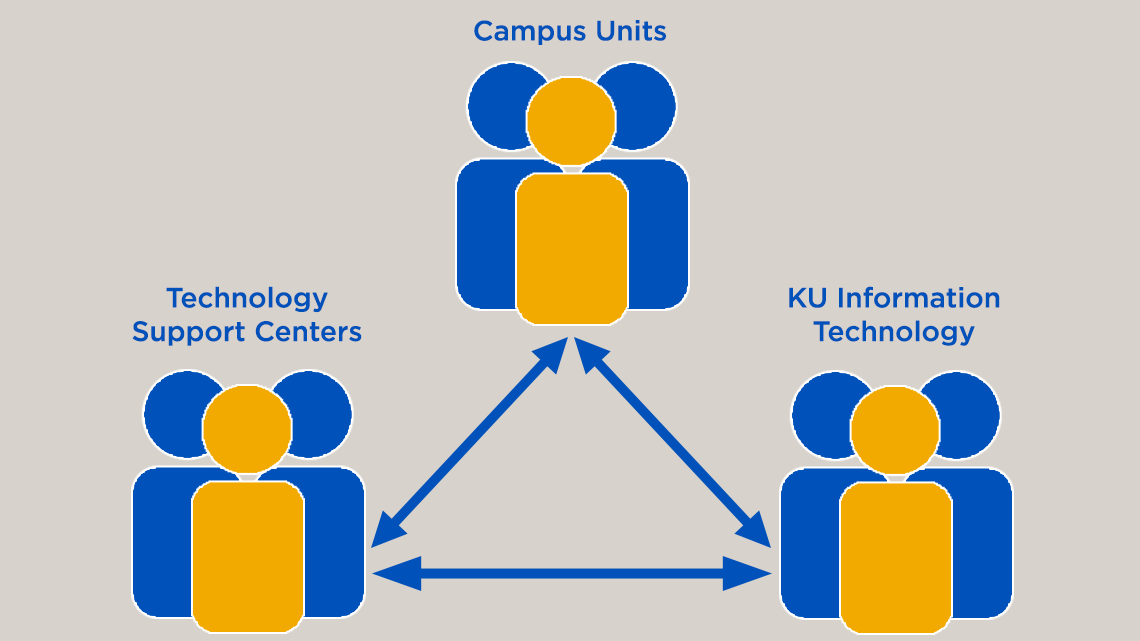 TSC Accountability
TSC staff members report centrally through KU Information Technology, but they work closely with leadership of the units they support to identify and meet the needs of faculty and staff in those units.
Consistent Support
More IT Resources
Knowledgeable back up staff
Cost savings through reallocation and cost avoidance
Open lines of communication between unit leader and TSC leaders
Career Advancement Opportunities
Training & Professional Development
More IT Resources
Tiered Support
Back up for vacation or other absences
Efficiency in support and procurement
Provide IT support for units that have no funding for IT support
Cost savings through the elimination of competitive hiring within the University
Cost savings through avoidance of replicated facilities and operating costs